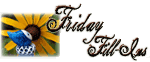 1. There is no need
to try to be anyone except who I truly am, why do I have to keep on reminding myself of that?
2. Where in the heck did the
week
go?
3.
Not a lot
is all I managed to do.
4. Prospects for
this weekend are good!
5.
Take it or leave it
is the message.
6. Simplicity and tranquility are
something I strive for, but never really manage to achieve, unfortunately
.
7. And as for the weekend, tonight I'm looking forward to
relaxing with my book
, tomorrow my plans include
trawling the mall with my girls
and Sunday, I want to
do some serious Spring Cleaning!