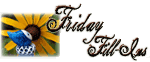 1. My blueprint for success includes
routine – I'm like a baby, if I am to succeed I NEED routine
.
2.
Dark chocolate
was the last candy I ate.
3. The best facial moisturizer I've ever used is
Estee Lauder, love the stuff, but can no longer afford it (sob, sob).
4.
Blogging
can be good therapy.
5. I'd like to tell you about
all sorts of things that go on in my daughters' lives, but I have to hold myself back for fear of upsetting them - it's very frustrating you know!!
6.
Loyalty
is my strongest characteristic.
7. And as for the weekend, tonight I'm looking forward to
going to a show that my friend's daughter is in
, tomorrow my plans include
watching the rugby (SA vs Wales) yay!
and Sunday, I want to
tidy my bookcase (exciting eh!)