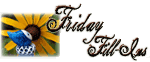 1. Give me
chocolate
and I'll
eat it!!
2. Whenever
I try to think of something decent to post, my mind goes blank
.
3. I wish
I could eat whatever I want to without gaining an ounce...
4.
Chinese supper at "Just So Chinese"
was the last thing I ate that was utterly delicious.
5. To live in this world
you need to be very brave
.
6. Other than this one,
Simply Mel
(I think?!)
is the last blog I commented on
7. And as for the weekend, tonight I'm looking forward to
Pizza (I know it's all about food today and yes I am supposed to be on diet....!)
, tomorrow my plans include
considering how very large my waist line is
and Sunday, I want to
plan to diet on Monday
!
Want to join in? Click on the Friday Fill-ins button above